Craft Brewing Supplies Store
Tooth and Nail Pale Ale Extract Beer Kit
Description
Tooth and Nail Pale Ale Extract Beer Kit
Goldsteam proudly offers the 2016 Canadian Brewing Awards Silver Medal Winning Pale Ale recipe from Brewmaster Matt Tweedy of Tooth and Nail Brewing Co in Ottawa. This smooth, golden-orange hued pale ale is the most popular offering at Tooth and Nail. A traditional style redefined with Pacific Northwest hops and crystal malts producing subtle notes of caramel and citrus. They nicknamed the beer "Tenacity" and it pays homage to the fighting spirit and struggles of the earliest independent breweries and believe me, this beer is what you want to drink when that fight is over!
All of our donated recipes are helping to support charities within the brewer's local community. Each time you purchase a beer kit from one of our award-winning brewers, we proudly donate $2 of the sale to their preferred charity. Matt proudly supports The Phoebe Rose Rocks Foundation with his Tooth and Nail Pale Ale Extract Kit.
Matt's Tooth and Nail Pale Ale Extract Beer Kit Includes:
A Special Blend Of Liquid and Dry Malt Extracts
A Special Blend of Steeping Grains
A Bittering Hop Addition
A Flavour Hop Addition
A Finishing Hop Addition
Ale Yeast (choose option above)
Tooth and Nail Pale Ale Extract Kit Recipe Document
Basic Extract Brewing Instructions Document
Experience Level: Beginner (kit includes steeping grains)
Pre-Boil Batch Size: 6.5 Gal (24.5 L) 60 Minute Boil
Post-Boil Batch Size: 5.25 Gal (20 L)
Steeping Grain Efficiency: 40 %
Target ABV (Alcohol By Volume): 5.5 %
SRM (Beer Color): 6
IBU (International Bittering Units): 35

About Matt Tweedy and Dayna Guy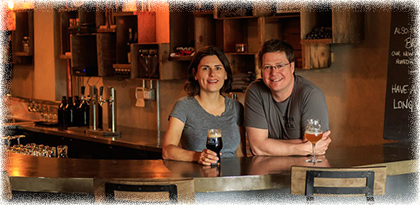 Matt Tweedy opened Tooth and Nail Brewing Company with his wife, Dayna Guy, in the Hintonburg neighbourhood of Ottawa in September 2015.  Assembled in an old printing plant, Tooth and Nail houses both a bar and retail store in addition to its 15bbl brewery, and has in its short lifespan garnered much attention for the quality and diversity of its beers.
Tweedy's background includes internships at some of the world's great breweries in addition to a brewing education in the U.S., followed by several years gaining valuable experience in the trade before opening his own shop.  Guy's experience is in both the beer and hospitality industries, having been a partner in Toronto's well known beer institution, beerbistro.
Together they have assembled a brewery and bar known in Ottawa and across Ontario for the high degree of quality in both their products and in the experience they provide.
Matt and Dayna proudly support the The Phoebe Rose Rocks Foundation

Additional information
| | |
| --- | --- |
| Weight | 8.5 lbs |
| Dimensions | 7.75 × 7.75 × 7.75 in |
Only logged in customers who have purchased this product may leave a review.