Craft Brewing Supplies Store
Field House Salted Black Porter Extract Beer Kit
Description
Field House Salted Black Porter Extract Beer Kit
Goldsteam is very proud to offer this fantastic twist on a classic ale from award-winning Brewmaster Parker Reid of Field House Brewing Co in Abbotsford, BC. Brewed with traditional Dutch Droppies (salted black licorice) this Salted Black Porter offers flavours of coffee, licorice, chocolate and caramel for a balanced malt profile and residual sweetness.
All of our donated recipes are helping to support charities within the brewer's local community. Each time you purchase a beer kit from one of our award-winning brewers, we proudly donate $2 of the sale to their preferred charity. Parker proudly supports the Cyrus Centre with his Salted Black Porter Extract Kit.
Parker's Salted Black Porter Extract Beer Kit Includes:
A Special Blend of Liquid and Dry Malt Extracts
A Special Blend of Crystal & Roasted Malt Steeping Grains
One Lb Of Brown Sugar
Traditional Dutch Droppies
A Bittering Pellet Hop Addition
A Finishing Pellet Hop Addition
Ale Yeast (choose option above)
Field House Salted Black Porter Extract Recipe Document
Basic Extract Brewing Instructions Document
Experience Level: Beginner (kit includes steeping grains)
Pre-Boil Batch Size: 6.5 Gal (24.5 L) 60 Minute Boil
Post-Boil Batch Size: 5.25 Gal (20 L)
Steeping Grain Efficiency: 40 %
Target ABV (Alcohol By Volume): 6.5 %
SRM (Beer Color): 52
IBU (International Bittering Units): 23

About Parker Reid and Field House Brewing Co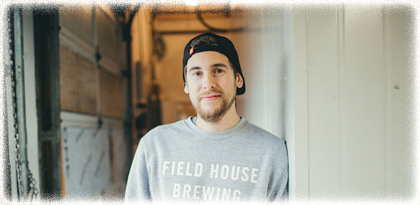 Originally hired as a Customer Service Rep for Mission Springs Brewing Co, it didn't take long for Parker to advance into Brewery Ops under the mentorship of Brewmaster Kevin Winter, where he acquired a wide range of skills. During this time, he also obtained the 'Concise Course in Brewing Technology' certificate from Chicago's prestigous Siebel Institute of Technology. Parker also attended Hop Union's 'Hop School' in Yakima, Washington, and many seminars and lectures throughout his career.
With a solid background in brewing fundamentals and brewhouse operations, Parker found the perfect opportunity to lead the Field House team in brewing, product strategy and operations management. He combines his customer service experience with craft beer lovers and connoisseurs, extensive brewing experience and passion for making award-winning beer.
Parker and Field House proudly support The Cyrus Centre

Additional information
| | |
| --- | --- |
| Weight | 12.5 lbs |
| Dimensions | 9.75 × 9.75 × 9.75 in |
Only logged in customers who have purchased this product may leave a review.