Craft Brewing Supplies Store
Wellington Brewery Imperial Stout Extract Beer Kit
Description
Wellington Brewery Imperial Stout Extract Beer Kit
Goldsteam is proud to present this award-winning recipe from Brewmaster Marvin Dyck of Wellington Brewery, Canada's oldest independently owned microbrewery. This delicious Russian Imperial Stout is one of the boldest beers in Ontario. With an inviting aroma of dark chocolate and coffee, this Imperial Russian Stout has a smooth, full bodied flavour patterned after the highly fortified stouts that were exported from the U.K. to Russia in the 1800's.
All of our donated recipes are helping to support charities. Each time you purchase a beer kit from one of our award-winning brewers, we proudly donate $2 of the sale to their preferred charity. Marvin proudly supports Wounded Warriors of Canada.
Marvin's Imperial Stout Extract Beer Kit Includes:
A Special Blend Of Liquid Malt Extracts
A Special Blend Of Malt Steeping Grains
Three Hop Additions
Yeast (choose option above)
Wellington Imperial Stout Extract Kit Recipe Document
Experience Level: Intermediate (kit includes steeping grains)
Pre-Boil Batch Size: 6.25 Gal (23.5 L) 60 Minute Boil
Post-Boil Batch Size: 5.0 Gal (19 L)
Steeping Grain Efficiency: 40 %
Target ABV (Alcohol By Volume): 8.0 %
SRM (Beer Color): 46
IBU (International Bittering Units): 42

About Marvin And Wellington Brewery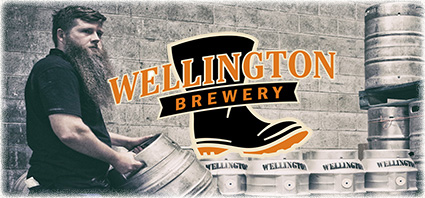 From "bottle monkey" to brewmaster, Marvin Dyck has watched the craft beer industry explode during his employment with Wellington Brewery since 2003.
His passion for making great beer is almost as big as his beard…. almost! This passion is lived out on a daily basis as he seeks to develop new and unique beers using only the finest ingredients for his loyal customers. What a lucky guy, eh?
Marvin and Wellington Brewery proudly support Wounded Warriors of Canada.

Additional information
| | |
| --- | --- |
| Weight | 12.75 lbs |
| Dimensions | 8.75 × 8.75 × 8.75 in |
Only logged in customers who have purchased this product may leave a review.