Craft Brewing Supplies Store
Yukon Brewing Lead Dog Ale All Grain Beer Kit
Description
Yukon Brewing Lead Dog Ale All Grain Beer Kit
Goldsteam is very proud to offer the award-winning Olde English Ale, known as Lead Dog from Yukon Brewing Co in Whitehorse. This brew is not for the faint of heart; it doesn't leap out and bite you (most Lead Dogs are better trained than that), but it will most certainly sneak up and knock you for a loop if given the chance (this character might be more comparable to that of the Malamute and Husky!).
Brewed to be high test, 7% alcohol by volume, the beer nonetheless drinks very smooth; the product of a careful blend of six different malts, and 2 months of aging after fermentation. The dark chocolate appearance is reminiscent of a porter, and the slightly darkened creamy head tops the look. But the first sip lets you know that this beer can be consumed, in quantity if desired (or required?), without leading to an overly full gullet. Intricate malt flavours predominate, with a medium mouth-feel and a very light bitter. This ale promises to take the chill off after running the team in the crisp January nights.
All of our donated recipes are helping to support charities within the brewer's local community. Each time you purchase a beer kit from one of our award-winning brewers, we proudly donate $2 of the sale to their preferred charity. Jonathan proudly supports The Whitehorse Food Bank with his Olde English Ale All Grain Beer Kit.
Please note: Yeast is now sold separately. Strain options linked above.
Jonathan's Olde English all grain kit includes:
A 12.5 lb. blend of malted grains
A bittering hop addition
A flavour hop addition
A finishing hop addition
Olde English all grain recipe document
Basic all grain brewing instructions document
Experience level: Advanced (all grain equipment required)
Target batch size: 5.25 gal (20 l) into the fermenter
Mash efficiency: Based on 75 %
Target ABV (alcohol by volume): 7.0 %
SRM (beer colour): 22
IBU (international bittering units): 40

About Jonathan Zaugg and Yukon Brewing Co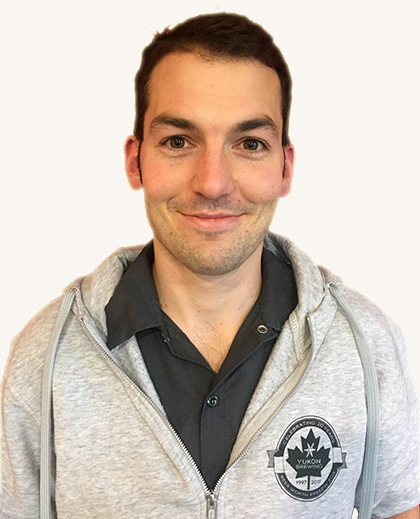 After completing studies in dairy producing technology, with focus on fermented products such as cheese and yoghurt in Switzerland, Jonathan Zaugg went on to produce Ice cream, yoghurt and other dairy products for an industrial dairy in Switzerland. After years at the industrial diary, Zaugg moved to cheese making at a small gruyere fromagerie before moving to Canada to produce goat cheese and other goat milk products at Happy Days Dairy in Salmon Arm, BC.
"This experience helped me when I started working for Yukon Brewing. Here I had the opportunity to learn, and get further educated in making beer before taking on the Head Brewer position."
Producing good food and beer are a passion for Zaugg – " There is something special about the process of creating beer from start to finish."
Jonathan and Yukon proudly support The Whitehorse Food Bank

Additional information
| | |
| --- | --- |
| Weight | 13 lbs |
| Dimensions | 9.75 × 9.75 × 9.75 in |
Only logged in customers who have purchased this product may leave a review.