Craft Brewing Supplies Store
Four Winds Brewing Co IPA All Grain Beer Kit
If You Don't Have All Grain Equipment Or Experience – Please Click Here
Please Note: This is NOT a clone, but the actual recipe from Brent Mills.
Kit Yield: Approximately 40 (500 ml) Bottles of Beer
Liquid Yeast Option: White Labs WLP090 San Diego Super Ale
Liquid Yeast Starter Info: Click Here
Description
Four Winds Brewing Co IPA All Grain Beer Kit
Goldsteam is extra proud to offers this outstanding recipe from Brent Mills of Four Winds Brewing Co., because the brewery just happens to be located in the community where I grew up. This award-winning IPA is a bitter beer made for the sweetest coast, the West Coast IPA hits all the major-key notes of citrus and flower, but finishes with a mellowing, hoppy flourish. Smooth and spirited at the same time? Only on the West Coast is this possible. This amazing beer is one of multiple award-winning offerings from Canada's Brewery of the Year in 2015 and producer of the 2016 Beer of the Year.
All of our donated recipes are helping to support charities within the brewer's local community. Each time you purchase a beer kit from one of our award-winning brewers, we proudly donate $2 of the sale to their preferred charity. Brett proudly supports The BC Children's Hospital Foundation with their IPA All Grain Kit.
The Four Winds Brewing Co IPA All Grain Beer Kit Includes:
A Special Blend of International Base Malts
A Special Blend of European Specialty Malts
A Total of Seven Hop Additions
Ale Yeast (choose option above)
Four Winds IPA All Grain Kit Recipe Document
Basic All Grain Brewing Instructions Document
Experience Level: Advanced (all grain equipment required)
Pre-Boil Batch Size: 7.0 Gal (26.5 L) 90 Minute Boil
Post-Boil Batch Size: 5.25 Gal (20 L)
Mash Efficiency: Based on 75 %
Target ABV (Alcohol By Volume): 7.0 %
SRM (Beer Color): 12
IBU (International Bittering Units): 70

About The Mill Family And Four Winds Brewing Co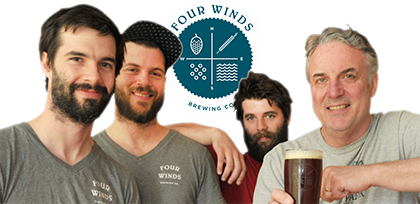 Four Winds opened their doors on June 1, 2013. Owned, operated and built from the ground up by the Mills family and friends, we are inspired by the Four Winds in gathering flavours from around the world to create our unique West Coast and European styles. We take great pleasure in the application of new world innovations while staying true to old world techniques. Motivated by the limitless potential of beer, as well as the great brewers who came before us, we aim to craft bold beers with character, depth and balance.
Situated just off the banks of the Fraser river in Delta BC, our brewery is geared towards bottle and draft production while our tasting room provides a unique and welcoming atmosphere for craft beer enthusiasts and newcomers alike. In addition to our tasting room, our beers can be found in bars, restaurants and private liquor stores throughout BC
The Mill Family proudly supports The BC Children's Hospital Foundation

Additional information
| | |
| --- | --- |
| Weight | 10 lbs |
| Dimensions | 8.75 × 8.75 × 8.75 in |
Only logged in customers who have purchased this product may leave a review.